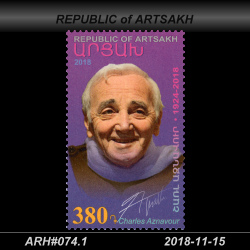 [15.11.2018] 19.11.2018 – ARH#74.1
Nennwert * Denomination:

380 Dram



Motiv:

Charles Aznavour (1924-2018), Sänger und Schauspieler armenischer Herkunft


Subject:

Charles Aznavour (1924-2018), singer and actor of Armenian origin



Auflage * Quantity printed:


6.000 Stück (in Kleinbogen mit je 10 Marken)
6,000 copies (in sheetlets of 10 stamps each)



Armenische Inschriften * Armenian inscriptions:




ARM:

ԱՐՑԱԽ




 DE 

ARZACH


 EN 

ARTSAKH


ARM:

ՇԱՌԼ ԱԶՆԱՎՈՒՐ




 DE 

CHARLES AZNAVOUR


 EN 

CHARLES AZNAVOUR


ARM:

֏

(Dram)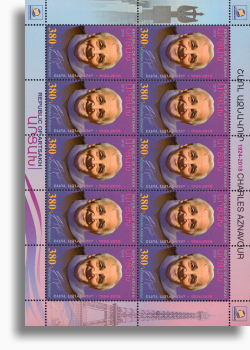 Kleinbogen * sheetlet
Auflage:

600 Kleinbogen mit je 10 Marken (5×2) = 6.000 Marken ARH#74.1


Quantity:

600 sheetlets of 10 stamps each (5×2) = 6,000 stamps ARH#74.1



Armenische Inschriften auf dem Bogenrand * Armenian inscriptions in the margin:




ARM:

ՇԱՌԼ ԱԶՆԱՎՈՒՐ




 DE 

CHARLES AZNAVOUR


 EN 

CHARLES AZNAVOUR


ARM:

ԱՐՑԱԽ




 DE 

ARZACH


 EN 

ARTSAKH

▲ Charles Aznavour wurde am 22. Mai 1924 in Paris als Schahnour Waghinak Asnawourjan geboren. Seine armenischen Eltern waren vor dem Genozid im Osmanischen Reich aus Izmir (Smyrna) geflohen. 1946 begann die Karriere von Charles Aznavour im Musikgeschäft. Bis 2006 spielte er auch in zahlreichen Filmen mit. Als Sänger stand er bis zuletzt weltweit auf der Bühne. Charles Aznavour starb am 1. Oktober 2018 im südfranzösischen Mouriès im Alter von 94 Jahren.

▲ Charles Aznavour was born in Paris as Shahnour Vaghinag Aznavouryan on 22 May 1924. His Armenian parents had fled Izmir (Smyrna) to escape the genocide in the Ottoman Empire. Charles Aznavour began his career in the music business in 1946. Until 2006, he also played in numerous films. Until the end he was on stage as a singer worldwide. Charles Aznavour died on 1 October 2018 in Mouriès, southern France, at the age of 94.