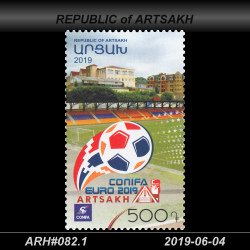 04.06.2019 – ARH#82.1
Nennwert * Denomination:

500 Dram



Motiv:

Sportstadion, Veranstaltungsemblem


Subject:

stadium, event emblem



Auflage * Quantity printed:


2.000 Stück (in gemischten Kleinbogen: siehe unten)
2,000 copies (in mixed sheetlets: see below)



Armenische Inschriften * Armenian inscriptions:




ARM:

ԱՐՑԱԽ




 DE 

ARZACH


 EN 

ARTSAKH


ARM:

֏

(Dram)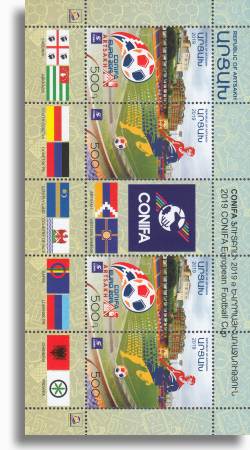 Kleinbogen (gemischt) * sheetlet (mixed)
Auflage:

1.000 gemischte Kleinbogen mit 2 verschiedenen Marken (4×1) = 2.000 Marken ARH#82.1


Quantity:

1,000 mixed sheetlets of 4 stamps each (2 different stamps) = 2,000 stamps ARH#82.1



Armenische Inschriften auf dem Bogenrand * Armenian inscriptions in the margin:




ARM:

ԱՐՑԱԽ




 DE 

ARZACH


 EN 

ARTSAKH


ARM:

CONIFA ՖՈՒՏԲՈԼԻ 2019 թ ԵՎՐՈՊԱՅԻ ԱՌԱՋՆՈՒԹՅՈՒՆ




 DE 

CONIFA EUROPAFUSSBALLMEISTERSCHAFT 2019


 EN 

2019 CONIFA EUROPE FOOTBALL CUP

▲ Die CONIFA-Europafußballmeisterschaft 2019 fand vom 1. bis 9. Juni in Arzach statt. Es nahmen 8 Mannschaften aus Arzach, Abchasien, Chameria, Lappland, Südossetien, Westarmenien, Padanien und dem Seklerland teil. Die Spiele wurden in Stepanakert, Askeran, Martuni und Martakert ausgetragen. Im Finale gewann Südossetien gegen Westarmenien mit 1:0. Diese Meisterschaft der CONIFA (Confederation of Independent Football Associations) wird für Staaten und Minderheiten ausgetragen, die nicht Mitglied der FIFA sind. Es war die dritte derartige Meisterschaft. Die erste fand 2015 in Ungarn statt, die zweite 2017 in Nordzypern (Sieger jeweils: Padanien).

▲ The 2019 CONIFA Europe Football Cup took place from 1 to 9 June in Arzach. There were 8 teams from Arzach, Abkhazia, Chameria, Lapland, South Ossetia, Western Armenia, Padania and the Seklerland. The games were played in Stepanakert, Askeran, Martuni and Martakert. In the final, South Ossetia won 1-0 vs. West Armenia. This CONIFA (Confederation of Independent Football Associations) championship is held for states and minorities that are not members of FIFA. It was the third such championship. The first took place in Hungary in 2015, the second in 2017 in Northern Cyprus (winner each time: Padania).