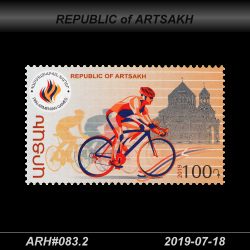 18.07.2019 – ARH#83.2
Nennwert * Denomination:

100 Dram



Motiv:

Radrennen


Subject:

cycling



Auflage * Quantity printed:


24.000 Stück (in verschiedenen Kleinbogen: siehe unten)
24,000 copies (in various sheetlets: see below)



Armenische Inschriften * Armenian inscriptions:




ARM:

ՀԱՄԱՀԱՅԿԱԿԱՆ ԽԱՂԵՐ




 DE 

PAN-ARMENISCHE SPIELE


 EN 

PAN-ARMENIAN GAMES


ARM:

ԱՐՑԱԽ




 DE 

ARZACH


 EN 

ARTSAKH


ARM:

֏

(Dram)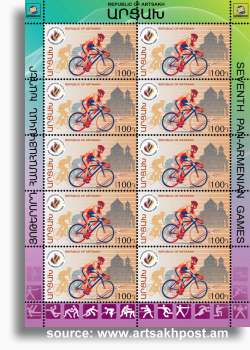 Kleinbogen * sheetlet
Auflage:

2.000 Kleinbogen mit je 10 Marken (2×5) = 20.000 Marken ARH#83.2


Quantity:

2,000 sheetlets of 10 stamps each (2×5) = 20,000 stamps ARH#83.2



Armenische Inschriften auf dem Bogenrand * Armenian inscriptions in the margin:




ARM:

ԱՐՑԱԽ




 DE 

ARZACH


 EN 

ARTSAKH


ARM:

ՅՈԹԵՐՈՐԴ ՀԱՄԱՀԱՅԿԱԿԱՆ ԽԱՂԵՐ




 DE 

7. PAN-ARMENISCHE SPIELE


 EN 

SEVENTH PAN-ARMENIAN GAMES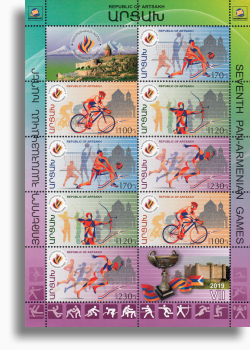 Kleinbogen (gemischt) * sheetlet (mixed)
Auflage:

2.000 gemischte Kleinbogen mit 4 verschiedenen Marken und 2 Zierfeldern = 4.000 Marken ARH#83.2


Quantity:

2,000 mixed sheetlets of 8 stamps each (2 different stamps) and 2 labels = 4,000 stamps ARH#83.2



Armenische Inschriften auf dem Bogenrand * Armenian inscriptions in the margin:




ARM:

ԱՐՑԱԽ




 DE 

ARZACH


 EN 

ARTSAKH


ARM:

ՅՈԹԵՐՈՐԴ ՀԱՄԱՀԱՅԿԱԿԱՆ ԽԱՂԵՐ




 DE 

7. PAN-ARMENISCHE SPIELE


 EN 

SEVENTH PAN-ARMENIAN GAMES

▲ Die 7. Pan-Armenischen Sportspiele wurden vom 6. bis 17. August 2019 ausgetragen. Die Wettkämpfe fanden vor allem in der armenischen Hauptstadt Jerewan statt. Im August 2019 wurden die Spiele erstmals in Stepanakert, der Hauptstadt der Republik Arzach, mit einer Feier eröffnet.

▲ The 7th Pan-Armenian Games were held from 6 to 17 August 2019. The competitions took place mainly in the Armenian capital Yerevan. In August 2019, the Games were opened for the first time in Stepanakert, the capital of the Republic of Artsakh.