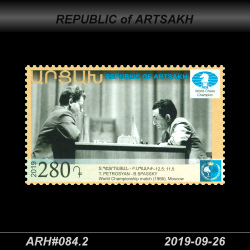 26.09.2019 – ARH#84.2
Nennwert * Denomination:

280 Dram



Motiv:

Schach-WM-Kampf Tigran Petrosjan (rechts) gegen Boris Spasski 1966 in Moskau


Subject:

world chess championship match of Tigran Petrosian (on the right) vs. Boris Spassky, Moscow 1966



Auflage * Quantity printed:


3.000 Stück (in gemischten Kleinbogen: siehe unten)
3,000 copies (in mixed sheetlets: see below)



Armenische Inschriften * Armenian inscriptions:




ARM:

ԱՐՑԱԽ




 DE 

ARZACH


 EN 

ARTSAKH


ARM:

֏

(Dram)


ARM:

Տ. ՊԵՏՐՈՍՅԱՆ – Բ. ՍՊԱՍԿԻ




 DE 

T. PETROSJAN – B. SPASSKI


 EN 

T. PETROSIAN – B. SPASSKY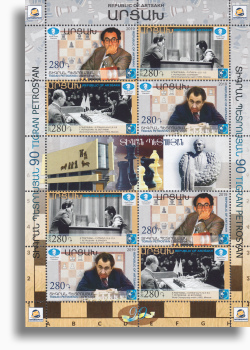 Kleinbogen (gemischt) * sheetlet (mixed)
Auflage:

1.500 gemischte Kleinbogen mit je zweimal 4 verschiedenen Marken und 2 Zierfeldern = 3.000 Marken ARH#84.2


Quantity:

1,500 mixed sheetlets of 8 stamps each (4 different stamps) and 2 labels = 3,000 stamps ARH#84.2



Armenische Inschriften auf dem Bogenrand * Armenian inscriptions in the margin:




ARM:

ԱՐՑԱԽ




 DE 

ARZACH


 EN 

ARTSAKH


ARM:

ՏԻԳՐԱՆ ՊԵՏՐՈՍՅԱՆ




 DE 

TIGRAN PETROSJAN


 EN 

TIGRAN PETROSIAN

▲ Tigran Wartanowitsch Petrosjan wurde am 17. Juni 1929 in Tbilissi (Georgien) geboren. 1946 zog er nach Jerewan (Armenien) und 1949 nach Moskau (damalige Hauptstadt der Sowjetunion). Er war ein sehr erfolgreicher Schachspieler (internationaler Großmeister), der wegen seiner defensiven Spielweise auch der "eiserne Tigran" genannt wurde. Tigran Petrosjan starb am 13. August 1984 in Moskau. <!- neue Zeile -->
Auf den beiden Zierfeldern ist links das 1970 eröffnete und 1984 nach Tigran Petrosjan benannte Schachhaus in Jerewan abgebildet und rechts das vor dem Gebäude stehende Tigran-Petrosjan-Denkmal.

▲ Tigran Wartanovich Petrosian was born on 17 June 1929 in Tbilisi (Georgia). In 1946 he moved to Yerevan (Armenia) and in 1949 to Moscow (the then capital of the Soviet Union). He was a very successful chess player (international grandmaster), who was also called the "iron Tigran" because of his defensive style of play. Tigran Petrosian died on 13 August 1984 in Moscow. On the left label of the sheetlet one can see the Chess House in Yerevan, opened in 1970 and named after Tigran Petrosjan in 1984, and on the right label is the Tigran Petrosian monument in front of the building depicted.