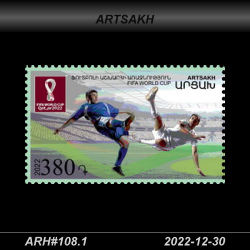 30.12.2022 – ARH#108.1
Nennwert * Denomination:

380 Dram



Motiv:

Fußballspieler im Duell


Subject:

football players in action



Auflage * Quantity printed:


10.000 Stück (in gemischten Kleinbogen: siehe unten)
10,000 copies (in mixed sheetlets: see below)



Armenische Inschriften * Armenian inscriptions:




ARM:

ՖՈՒՏԲՈԼԻ ԱՇԽԱՐՀԻ ԱՌԱՋՆՈՒԹՅՈՒՆ




 DE 

FUẞBALL-WELTMEISTERSCHAFT


 EN 

FOOTBALL WORLD CHAMPIONSHIP


ARM:

ԱՐՑԱԽ




 DE 

ARZACH


 EN 

ARTSAKH


ARM:

֏

(Dram)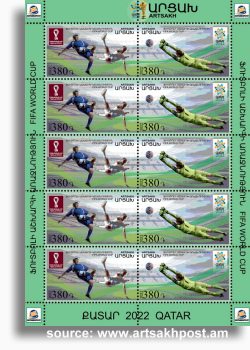 Kleinbogen (gemischt) * sheetlet (mixed)
Auflage:

2.000 gemischte Kleinbogen mit 2 verschiedenen Marken (2×5) = 10.000 Marken ARH#108.1


Quantity:

2,000 mixed sheetlets of 10 stamps each (2 different stamps) = 10,000 stamps ARH#108.1



Armenische Inschriften auf dem Bogenrand * Armenian inscriptions in the margin:




ARM:

ԱՐՑԱԽ




 DE 

ARZACH


 EN 

ARTSAKH


ARM:

ՖՈՒՏԲՈԼԻ ԱՇԽԱՐՀԻ ԱՌԱՋՆՈՒԹՅՈՒՆ




 DE 

FUẞBALL-WELTMEISTERSCHAFT


 EN 

FOOTBALL WORLD CHAMPIONSHIP

▲ Die 22. Fußball-Weltmeisterschaft (FIFA WORLD CUP) fand vom 20. November bis 18. Dezember 2022 in Katar statt. Es nahmen 32 Nationalmannschaften an der Endrunde teil. Im Finale gewann Argentinien gegen Frankreich. Deutschland scheiterte erneut in der Vorrunde. Torschützenkönig wurde Kylian Mbappé aus Frankreich (8 Tore), bester Gesamtspieler Lionel Messi aus Argentinien und bester Torwart sein Landsmann Emiliano Martínez.

▲ The 22nd FIFA World Cup took place in Qatar from 20 November to 18 December 2022. 32 national teams took part in the tournament. In the final, Argentina won against France. Germany failed again in the first round. Top goalscorer was Kylian Mbappé from France (8 goals), best overall player was Lionel Messi from Argentina and the best goalkeeper was his compatriot Emiliano Martínez.