NKR#1
« 2 * Հարցը թիվ * Ausgabe Nr. * Issue No. * 2 »
NKR#3
հավելատիպ՝ Ա – Բ – Գ
Aufdruck * overprint: A – B – G
Թողարկման օրը * Ausgabedatum * Date of Issue: 01.09.1995
► Առաջին օրը շրջանառության * Erstverwendungstag * First day of circulation: 01.09.1995
► Տպարանը ՝ Երեւանում, Հայաստան * Druckerei: in Jerewan, Armenien * Printing house: in Yerevan, Armenia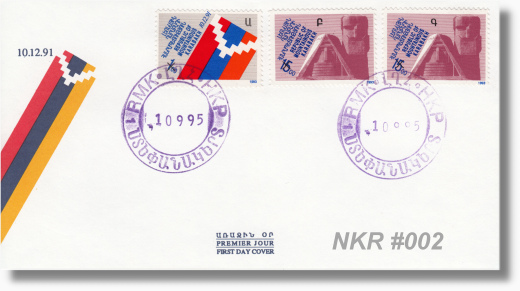 ▲
Anmerkung:
Nach Einführung der armenischen Währung DRAM, die ab 22.11.1993 zunächst parallel zum RUBEL galt (ab 17.03.1994 nur noch Dram), wurden die Rubel-Marken
per 1. März 1995 außer Kurs
gesetzt. Ab 1. September 1995 kamen diese Marken mit Änderungsaufdrucken (armenische Buchstaben) für neue Wertangaben wieder in Umlauf.
▲
Note
: After introduction of the new Armenian currency
dram
as legal tender also in NKR, from Monday 22 November 1993 together with old roubles, since 17 March 1994 dram only, all stamps with rouble denominations became
invalid by 1 March 1995
. From 1 September 1995, those stamps were issued again with overprints (Armenian letters for dram denominations).
| | |
| --- | --- |
| | last updated: 19.10.2018 |