23.02.2017 – NKR 58.1
Nennwert * Denomination:

120 Dram



Motiv:

Nikol Duman (1867-1914), armenischer Freiheitskämpfer


Subject:

Nikol Duman (1867-1914), an Armenian fedayee



Auflage * Quantity printed:


10.000 Stück (in Kleinbogen à 10 Marken)
10,000 copies (in sheetlets of 10 stamps each)



Armenische Inschriften * Armenian inscriptions:




ARM:

ԼԵՌՆԱՅԻՆ ՂԱՐԱԲԱՂԻ ՀԱՆՐԱՊԵՏՈՒԹՅՈՒՆ




 DE 

REPUBLIK BERGKARABACH


 EN 

REPUBLIC OF MOUNTAINOUS KARABAKH


ARM:

֏

(Dram)


ARM:

ՆԻԿՈԼ ԴՈՒՄԱՆ

= NIKOL DOUMAN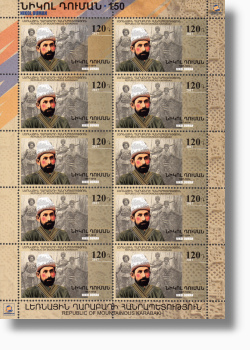 Kleinbogen * sheetlet
Auflage:

1.000 Kleinbogen à 10 Marken (2×5)


Quantity:

1,000 sheetlets of 10 stamps each (2×5)

▲ Auf dem Bogenrand befinden sich Inschriften zum Ausgabethema und das Logo von ArzachPost.

▲ In the margin, there are thematic inscriptions and the imprint of ArtsakhPost.



Armenische Inschriften auf dem Bogenrand * Armenian inscriptions in the margin:




ARM:

ՆԻԿՈԼ ԴՈՒՄԱՆ

= NIKOL DOUMAN


ARM:

ԼԵՌՆԱՅԻՆ ՂԱՐԱԲԱՂԻ ՀԱՆՐԱՊԵՏՈՒԹՅՈՒՆ




 DE 

REPUBLIK BERGKARABACH


 EN 

REPUBLIC OF MOUNTAINOUS KARABAKH

▲ Nikol Duman wurde am 12. Januar 1867 als Nikoghaios Ter-Hovhannisian im Karabach-Dorf Ghschlagh geboren. Als armenischer Freiheitskämpfer flüchtete er 1895 in der Rauchfahne eines brennenden Hauses vor kurdischen Verfolgern der Hamidiye-Kavallerie, die ihm daraufhin den Spitznamen "Duman" (Rauch) gaben. Er starb am 23. September 1914 durch Selbstmord nach einer Tuberkulose-Erkrankung. Sein Grab befindet sich in Tbilissi.

▲ Nikol Duman was born on 12 January 1867 as Nikoghaios Ter-Hovhannisian in the Karabakh village of Ghshlagh. When he was an Armenian fedayee once he escaped from a burning house using the smoke as coverage. After that the Kurdish Hamidiye cavalry, hunting him, nicknamed him "Duman" (smoke). He died by suicide on 23 September 1914 after a tuberculosis infection. His grave is situated in Tbilisi.